Bali 2019
Arrival in Seminyak
It sure is a bit of trek getting to Bali from the US - but unquestionably worth it! It was hands down the best vacation we've ever had as a family. Once there, a wide range of accommodation is available in Bali - but after almost 2 days of travel to get here, I highly recommend that a family request from their advisor to book their own villa. You can have lots of space to chill out , relax and recharge the batteries after all those cramped flights. Many villas come with your own private pool which is real nice to have... Bali is just a bit south of the equator, but in late June/early July the weather is most pleasant with temperatures in the low to mid 80's F and almost no rain.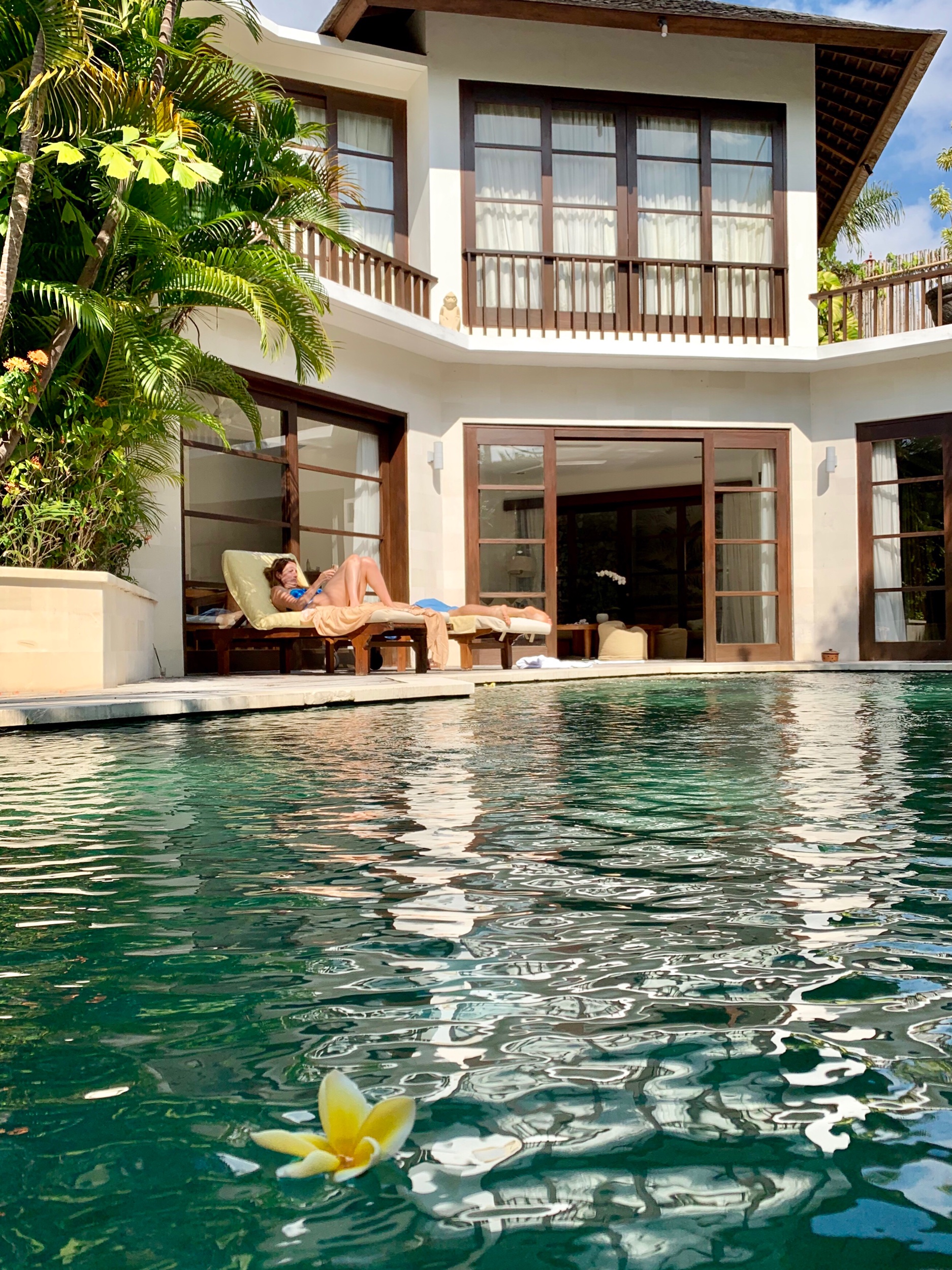 Pura Taman Arun Temple
Late afternoon we've gotten enough energy back to start seeing some sights. We used a DMC (Destination Management Company) for almost all our tours - highly recommend it for anxiety free driving, knowledgeable and extremely friendly guides, and always ready with a cooled van, temple sarongs, cold water and even WiFi in the van!
First stop - Pura Taman Ayunn Hindu Temple. Note that Bali's population is 85% Hindu.
Taman Ayun Temple is a landmark in the village of Mengwi, Badung regency, located 17km northwest of Denpasar. This temple complex boasts magnificent traditional architectural features throughout its courtyards and enclosures as well as expansive garden landscapes comprised of lotus and fish ponds. The temple was built circa 1634 by the then ruler of the Mengwi kingdom, Tjokerda Sakti Blambangan, with Chinese architectural inspirations, and underwent a significant restoration project in 1937. Towering tiers from the temple shrines make up most of the profile of Taman Ayun and are a gesture of the people of Mengwi's reverence to their deified noble ancestors, for the temple complex is considered the 'mother temple' of Mengwi. The Taman Ayun Temple was to serve as a main site of worship among the Mengwi people and also served as a unifying symbol among the Mengwi royalty and the people.
Read more at: www.bali-indonesia.com/attractions/taman-ayun-temple.htm?cid=ch:OTH:001
Tamun Ayun - Inner Courtyard
Wearing a sarong is required to tour temples in Bali - they're very light and comfortable and can be rented cheaply at the entrance if your guide doesn't already supply them for you. Having our Private Guide care for these and always have them ready was a nice perk.
Unlike the common towering indoor Hindu temples of India, puras are designed as an open air place of worship within enclosed walls, connected with a series of intricately decorated gates between its compounds. These walled compounds contain several shrines, meru (towers), and bale (pavilions). The design, plan and layout of the pura follows the trimandala concept of Balinese space allocation.Three mandala zones arranged according to a sacred hierarchy.
Tanah Lot Temple
This temple has a very dramatic setting on a surf pounded rocky outcrop that can only be reached at low tide.
The area has become a major tourist attraction so be prepared for crowds especially around sunset which is the best viewing time - despite that, it's definitely a must see!
The Tanah Lot temple was built in the 16th century and has been a part of Balinese mythology for centuries. The temple is one of seven sea temples around the Balinese coast. Each of the sea temples was established within eyesight of the next to form a chain along the south-western coast. In addition to Balinese mythology, the temple was significantly influenced by Hinduism.
Tanah Lot Blessing
At the base of the rock on which the temple sits there is a freshwater spring from which you may drink and where you can be anointed with rice and and an accompanying blessing for a very small donation.
Tanah Lot is also a great place to enjoy a sunset.
Uluwatu Temple
This Hindu temple , built largely in the 11th century, boasts another dramatic cliff top setting that is also a breathtaking sunset scene.
Uluwatu Monkeys
The forested area surrounding the sea and temple is home to macaques monkeys - note that they are playful and mischievous! They won't hurt you, but they will steal items like sunglasses right off your head… so be careful.
Kecak Dance
This must see performance takes place at sunset right on the cliff top overlooking the sea which provides the most amazing setting!
The Kecak dance, or 'Tari Kecak', is a captivating traditional Balinese art performance, which also goes by, 'the monkey chant dance', and loosely 'fire dance', for its occasional use of fire as a centrepiece prop. The Kecak was created around 1930 and is now internationally recognised as one of Bali's top-three signature dances (alongside the Barong and Legong). The Kecak dance is unique in that it has no other musical background or accompaniment besides the chanting of male dancers, intoning a "keh-chack" polyrhythmic choir during most of the performance. Kecak's storyline is taken from the Ramayana Hindu epic and it's often on the entertainment schedule of almost every Balinese arts and culture venue. The black and white checked sarongs represent the dualism of light/dark & Good/Evil.
Luwak Coffee Tasting at Jambe Asri Agrotourism
Luwak coffee…if you haven't heard of it, that's the coffee made from beans pooped out by civets who eat only the choicest beans! Read more in the photo of the flyer below.
Sidemen
After staying in the crowded area of Seminyak (…traffic is horrendous and moves at a crawl to get anywhere), we moved out of the city to stay among the rice paddies in Sidemen where life is more rural and the pace much slower.
Tukad Cepung Waterfall
This is a stunning must see for those who enjoy waterfalls. There's a bunch of steep steps to hike down the gorge to get there , so not recommended for any disabled or injured. It's really hidden down there, so you can't see it till the last few yards…all adds to a sense of anticipation as you wind along the floor of the ravine past huge boulders.
It's nice and cool down there... and be prepared to get wet! Bathing suits and sandals are best to wear...bringing a towel would be good too.
There is also a small temple inset into the wall of the ravine that had a distinctly deep vibe of calmness and silence.
Tibuman Waterfall
Close by the Tukad Cepung waterfall is another - Tibuman Waterfall. The pool at the base of this one is deep enough for a swim and it's less crowded than Tukad Cepung.
Ancient Rock Carvings near Tibuman Waterfall
This seems to be our somewhat secret discovery of the trip as I couldn't find any postings/documentation about it so that made it special!
If you go past the sign for the waterfall at the bottom of the stairs you'll shortly come to a small temple next to some rapids - you'll see a staircase across the stream, follow that on to an overgrown stone path through the jungle for a short while.
Then on your left you will come across these impressive stone carvings. I've still not been unable to find anything documenting these mysterious old carvings so far....
Pura Tirta Empul
Holy spring water temple known as a place of purification ceremonies by Balinese. The temple was founded in the 10th century and is dedicated to the Hindu God Vishnu.
For nominal donation you can enter the cold spring water and partake in the holy water blessing. Natalie enjoyed the blessing waters. I have since seen some concerns posted about the water quality, so think before you drink. We didn't experience any problem.
Besakih Temple
Located at the slope of Agung Volcano (Active) the biggest and most important temple in Bali, often called "Mother Temple".
To the Balinese, visiting the temple sanctuaries of Besakih is a special pilgrimage. Mount Agung's high location gives it an almost mystical quality. Many stairs lead up to the sacred mountainside, leading to the many temples that vary according to types, status, and functions. Pura Besakih features 3 main temples dedicated to the Hindu trinity. Pura Penataran Agung in the centre has white banners for Shiva, the destroyer; Pura Kiduling Kreteg to the right features red banners for Brahma, the creator; and Pura Batu Madeg represents Vishnu, the preserver, with its black banners. You can visit many other smaller temples in Pura Besakih, but many of their inner courtyards are closed to the public as they're reserved for pilgrims for prayers. Pura Besakih is the only temple open to every devotee from any caste groups. This is due to its role as the primal centre of all ceremonial activities.
Read more at: http://www.bali-indonesia.com/attractions/besakih-temple.htm?cid=ch:OTH:001
Ahmed
We left the green rice paddies behind and headed to the north east shores where the pace is laid back and the focus is on diving and snorkeling. There are no big hotels and resorts up here but you can find some great gems like our clifftop villa on the outskirts of Ahmed which had an adjacent quiet beach with great snorkeling and a swing. The beach is black sand and lined with traditional Balinese jukung boats.
Tulamben Diving
The main attraction at nearby Tulamben is the wreck of the USS Liberty which was sunk by the Japanese in WWII. The ship was beached after it was hit but later sank beneath the waves during an earthquake. An early morning shore dive is the best way to experience the wreck with its abundant sea life.
Snorkeling at Ahmed
For close to $50 we rented one of the local jukung sail boats (with motor) with 2 crew for some snorkeling and ending with a sunset sail back to our home beach. The crew knew the best snorkeling spots and took us down the coast a little ways to a spot with a small sunken temple teaming with marine life.
Pura Lempuyang
Lempuyang Temple a Gate of Heaven - is one of six most important temples in Bali, has been believed to be a very sacred temple by Balinese people. It is located on the slope of Mount Lempuyang 600 metres (2,000 ft) high above sea level. According to Balinese beliefs, they are the pivotal points of the island and are meant to provide spiritual balance to Bali. In the Hindu religion this temple is to represents the direction of east (purwa) associated with the domain of the god Iswara. The temple itself is divided into three segments that are called as Tri Mandala. It is outside area (Nista Mandala), middle part (Madya Mandala) and inner main part (Utama Mandala).

Along the stairs then you can feel the the real spiritual vibrancy of the temple. From here you can see Mount Agung the highest volcano in Bali very close. Very popular Instagram spot for taking an amazing picture on the gate of heaven with the background of Mt. Agung...but expect a long Que….couple of hour wait for the photo opp! The trick (done with a mirror in front of your phone lens) makes it look like there's a placid pond in front of you reflecting your image. We used this trick at some other locations that had no queue…because our Guide knew where to go.
Ubud
Leaving the ocean and heading back inland to Ubud which is crazy popular for tourists. Definitely the place to do your souvenir shopping - downtown is busy and filled with shops and restaurants. We stayed at a nearby resort where we could still enjoy the tranquility of being amidst the rice paddies.
On our first night there we enjoyed the only rain we experienced the entire 2 weeks we were there. It was a refreshingly cool and atmospheric.
Dalem Pingit
We took a day to experience the spiritual side of Bali. After a morning yoga session we proceeded to Dalem Pingit Temple where after making traditional offerings we experienced a ritual purification and blessing ceremony at the waterfall involving full immersion in the waterfall. Later that day we met with a local Balinese shaman who performed chakra openings &readings and also palm readings.
Gunung Kawi
Gunung Kawi Temple complex comprises a collection of ancient shrine reliefs dating back to the 11th century that are carved into the face of a rock cliff in central Bali. The main site overlooks the sacred Pakerisan River.
It's a bit of hike down the staircase to the river , so only recommended for the fit and able who should have no problems.

Small stone caves that actually serve as meditation sites complement the shrines, where Buddhist monks used to sit and contemplate. Indeed, Balinese history has shown that the 2 religions harmoniously coexisted in the past.
My son took an opportunity to play a duet with our awesome guide Augus on some traditional Balinese instruments (Gamelan Ensemble).

Read more at: http://www.bali-indonesia.com/magazine/gunung-kawi-temple-bali.htm?cid=ch:OTH:001
Prambanan Temple - Java
A short flight from Denpasar (Ngurah Rai International Airport, 'bout 1 1/2 hours) to Yogyakarta ( Adisucipto International Airport) enables us to experience a bit of the main Indonesian island of Java where our main goal was to experience the sunrise at Borobudur Buddhist Temple.
The Prambanan temple is the largest Hindu temple of ancient Java, and the first building was completed in the mid-9th century. It was likely started by Rakai Pikatan as the Hindu Sanjaya Dynasty's answer to the Buddhist Sailendra Dynasty's Borobudur and Sewu temples nearby. Historians suggest that the construction of Prambanan probably was meant to mark the return of the Hindu Sanjaya Dynasty to power in Central Java after almost a century of Buddhist Sailendra Dynasty domination. The construction of this massive Hindu temple signifies that the Medang court had shifted its patronage from Mahayana Buddhism to Shaivite Hinduism. Each of the major temple structures contains a status of a Hindu deity e.g. Shiva, Vishnu & Ganesh.
It was reduced to rubble (as seen in the foreground of the picture below) by a devastating earthquake in the 16th century and continues to be painstakingly rebuilt since 1930.
Borobudur
At Borobudur rests the largest Buddhist temple in the world. It's absolutely stunning and at it's most glorious when it catches the rays of the morning sunrise. We got there at 4am for this experience, but alas our timing was unfortunate for we had a cloudy day. In any case, it is still an impressive site and worth a visit.
The temple was built in the 9th century and contains well over 2,000 relief panels and over 432 Buddha statues (72 of these were built in it's iconic perforated stupas). Everything is with 9 as a sum.
Farewell to Bali
We returned from Java to Bali for one more night, spending our last day at Double Six Beach in Seminyak where we just chilled out and reflected on all our experiences of the wonderful people and culture of the island with its lush rice paddies, ancient temples and cascading waterfalls.